Authentic California roll
Decorate your Maki Sushi with Masago orange! Our Masago is perfect for this dish.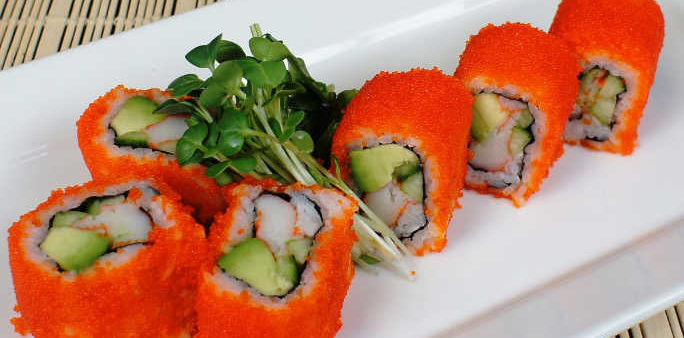 Adjust the quantity for your preference
Ingredients:
| | |
| --- | --- |
| "Masago Orange" | |
| Sushi rice | |
| Dried Seaweed /Nori | |
| Crab stick | |
| Avocado | |
Cooking instruction:
1. Prepare Sushi Rice by adding mixture of Vinegar, Sugar, and Salt in Steamed Sticky Rice. Slice Avocado into sticks. 
2. Roll Ingredients
    – Place Sushi Mat on a flat surface.
    – Place 1 Nori sheet on Sushi Mat. 
    – Place about 2 slices of Avocado horizontally to align bottom length of Nori.
    – Add about 4 Crab Sticks evenly on top of Avocado line. 
    – Roll it tightly by lifting Sushi Mat. 
    – Remove the roll from Sushi Mat and set aside. 
3. Spread Seasoned Sushi Rice evenly on Sushi Mat, then place Rolled Ingredients towards bottom edge. Roll it inside the sheet of Rice carefully.
4. To garnish, spread "Masago Orange" on a plate and turn over sushi roll carefully to cover entire surface. 
5. Wet the knife, and cut evenly at about 1 inch.
6. Enjoy!