Authentic California roll
As the most well-known sushi in Northern America, California Roll is evolved from traditional sushi rolls using "Ura Maki (reverse roll)" technique to hide black Nori Seaweed for more approachable presentation. Ura Maki Rolls are covered with crunchy bits to both add texture and prevent rice pieces from sticking. Let's make this staple sushi roll with Masago Orange!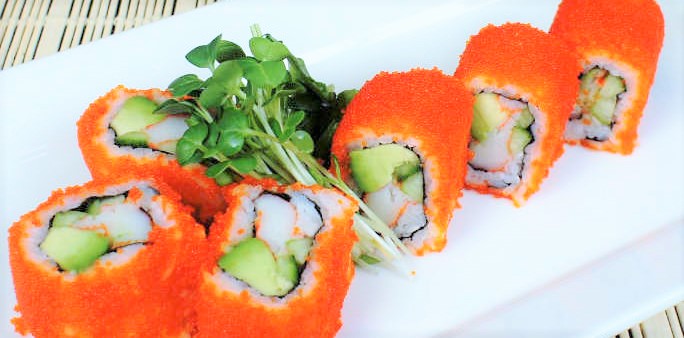 Serves:
1 Serving
Adjust quantity to your preference
Ingredients:
| | |
| --- | --- |
| [Sushi Rice] | |
| Steamed Sticky Rice | 1 Cup |
| Rice Vinegar | 4 Tsp |
| Sugar | 3 Tsp |
| Salt | 1/2 Tsp |
| . | |
| Roasted Nori Seaweed | 1 Sheet |
| Crab Sticks (Real or Imitation) | 4~8 Pieces |
| Avocado | 1/4 Piece |
| Mayonnaise | 1 Tbsp |
Toppings:
Cooking instruction:
1. Prepare Sushi Rice by adding mixture of Vinegar, Sugar, and Salt in Steamed Sticky Rice. Slice Avocado into sticks. 
2. On Sushi Mat, place a piece of plastic wrap, then Roasted Nori Seaweed; and spread Seasoned & Cooled Sushi Rice evenly (leaving about 1 inch space at the bottom). 
3. Flip over the Nori sheet with Rice horizontally, so the Rice side is facing down on plastic wrap. Place the edge without Rice coating closer to yourself. 
4.  Pile up Avocado, Crab Sticks, and Mayo horizontally to align bottom length of Nori sheet, on the edge without Rice coating. 
5. Roll in ingredients tightly by lifting Sushi Mat from bottom upwards. Make sure to roll firmly to remove air space inside. 
6. Remove the roll from Sushi Mat and plastic wrap, and set aside. 
7. To garnish, spread "Masago Orange" on a plate and turn over sushi roll carefully to cover entire surface. 
8. Slice and enjoy!