Edamame Salad Sushi Roll
For those who dislike Su-meshi (Vinegared Rice), try Edamame Salad as sushi roll for a colourful and fun Vegetarian meal!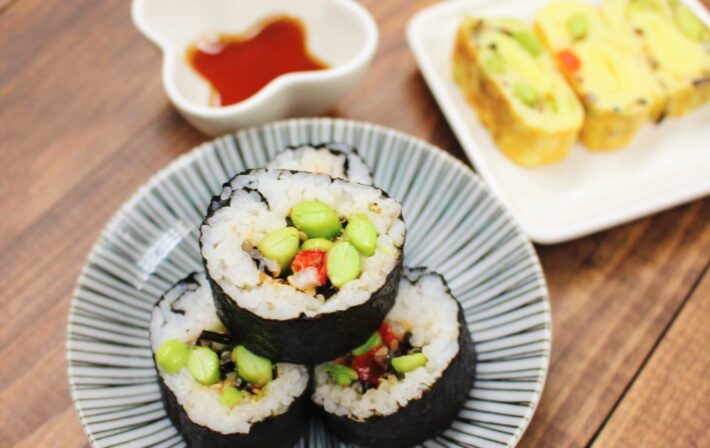 Cooking Skills
Intermediate
Serves:
1 Serving
Adjust quantity to your preference
Ingredients:
| | |
| --- | --- |
| "Edamame Soybean Salad" | 100 g |
| Steamed Rice | 1 Cup |
| Roasted Nori Seaweed | 1 Sheet |
| Soy Sauce | (to taste) |
Toppings:
Cooking instruction:
1. On a Sushi Mat, place Roasted Nori sheet. 
2. Spread Steamed Rice evenly on Roasted Nori sheet, leaving about 1 inch space at the top. 
3. Place "Edamame Soybean Salad" horizontally to align bottom length of Nori sheet, on the edge without Rice coating. 
4. Roll in ingredients tightly by lifting Sushi Mat from bottom upwards. Make sure to roll firmly to remove air space inside. 
5. Slice and enjoy with Soy Sauce!