Veggie Tempura Rice Burger
"Kakiage" is a Vegetable Tempura made with shredded onion, carrots, greens, etc. and deep fried into a disk with batter. Perfect for a quick Rice Burger to satisfy your hunger!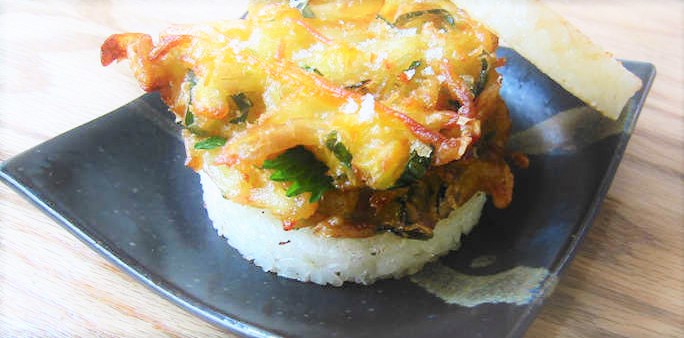 Serves:
1 Serving
Adjust quantity to your preference
Ingredients:
| | |
| --- | --- |
| "Yasai Kakiage" (Vegetable Tempura) | 1 Piece |
| Steamed Rice | 1 Cup |
| Canola Oil | 1 Tbsp |
| Tempura Sauce | (to taste) |
Toppings:
Cooking instruction:
1. Divide Steamed Rice into 2 portions, and form each portion into disk-shape buns by hand. 
2. Cook both sides of Rice Buns into a heated pan with Canola Oil. 
3. Follow package instructions to reheat "Yasai Kakiage". Dip in Sauce at this point for softer texture (Add sauce last for crunchier texture). 
4. Sandwich "Yasai Kakiage" in Rice Buns, and enjoy with your choice of toppings!