Hasselback Potato with Uni Paste
Need some main dishes for tonight? Try our Hasselback potato with Sea Urchin paste OR Spicy Cod roe paste!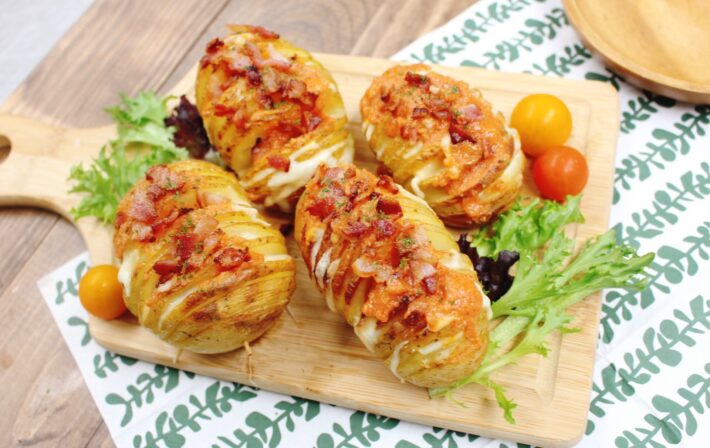 Cooking Skills
Intermediate
Serves:
4 Serves
Adjust the quantity for your preference
Ingredients:
| | |
| --- | --- |
| Potatoes | 4 |
| Pizza cheese or sliced cheese | as much as you want |
| Mentai Paste | as much as you want |
| Uni Paste | as much as you want |
| Bacon | 1 slice |
| Dried Parsley | for garnish |
Cooking instruction:
1. Preheat the oven to 450F.

2. Move on to the potato. Make deep slits with a knife to the potato. Do not completely cut, leave 5mm-7mm at the bottom.

3. Cook the potato in the oven for 50-60minutes. The best result is to cover the first 30 minutes and remove the cover 30minutes later.

4. Remove the potato from the oven, place pizza cheese between the slits.

5. Put back the potato in the oven and cook for another 5 minutes.

6. Remove from the oven and spread Uni paste or Mentai paste on the top of the cheese.

7. Garnish with crispy bacon and dried parsley.