Shime saba Shuba salad
Shime Saba is not just for Japanese dishes! We prepared the Russian dish "Shuba salad" this time for you to try. "Shuba salad" came from the meaning of "big far jacket" and is eaten on the new year in Russia. Usually, they use Oil marinated Herring fish. This year, would you like to try some Russian dishes??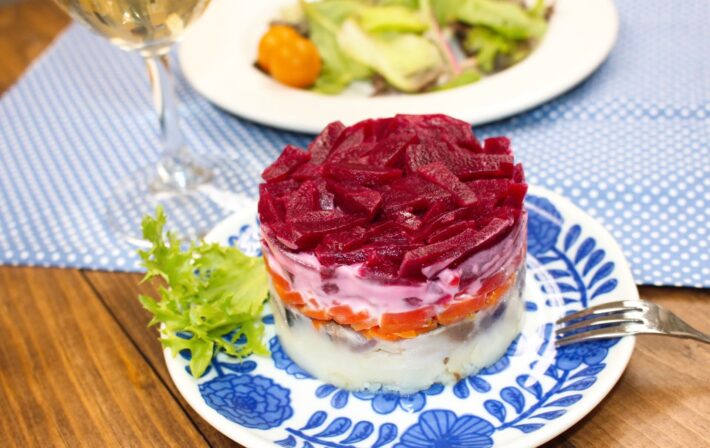 Cooking Skills
Intermediate
Serves:
4 Serves
Adjust the quantity for your preference
Ingredients:
| | |
| --- | --- |
| Shimesaba | 1 package |
| Beets can | 1 |
| Boiled Carrots | 1 |
| Boiled potato | 1 |
| Mayonnaise | 1/2 cup |
| Onion | 1/2 |
Cooking instruction:
1. Chop Shime saba, beets, carrots, boiled potato, and Onion small. 
2. In the mold (or plate), place the potato at the bottom.  with a spoon or spatula, push the surface so it will not fall apart at the end when you remove the mould.
3. Next, In the small bowl, mix chopped onion and shime saba. Then place the mixture on the top of the potato.
4. Now place the carrots on the top.
5. After you put the carrots, pour the mayonnaise, and spread evenly.
6. Lastly, place the beets and leave them in the fridge at least 6 houses before you remove the mold.